Zephloa(Pokémon)
Edit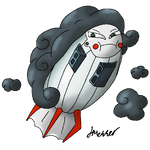 Zephloa is a Electric/Flying-type. It evolves from Cumuloft at level <level>. It is <height> in height, it weighs <weight>, and has the ability <ability>. In the Dawn Pokédex, its number is #042, and it is classified as the <Classification> Pokémon.
PhysiologyEdit
Zephloa is a large Pokémon that looks like a blimp. Its entire top half is shrouded in grey storm clouds. On the front, it appears to wear a white mask, though it is actually its face. Its rudder is red and white.
Gender DifferencesEdit
<N/A>
Special AbilitiesEdit
<N/A>
Game Data
Edit
Pokedex EntryEdit
Game LocationEdit
'
HP:
Attack:
Defense:
Special Attack:
Special Defense:
Speed: 
By Level Up
S: Gust S: Growth Lv. 6: Defence Curl Lv. 10: Whirlwind Lv. 14: Slam lv. 16: Thunderwave Lv. 18: Roost Lv. 22: Air Slash Lv. 25: Thundershock Lv. 28: Agility Lv. 34: Charge Lv. 40: Thunderbolt lv. 46: Bounce Lv. 52: Thunder Lv. 58: Explosion
By TM/HM
- Zephloas name has float in it, and its pre-evolutions name, Cumuloft, has aloft in it. Float and aloft are anagrams.
Zephloa is based on a blimp and storm clouds. It was designed by Fiery Hedgehog.
Name OriginEdit
Zephloas name is a combination of Zephyr, or Zeppelin, and Float.
Community content is available under
CC-BY-SA
unless otherwise noted.