Valode(Pokémon)
Edit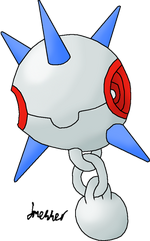 Valode is a Water/steel-type. It evolves into Marinode at level <level>. It is <height> in height, it weighs <weight>, and has the ability <ability>. In the Dawn Pokédex, its number is #028, and it is classified as the <Classification> Pokémon.
PhysiologyEdit
Valode is a metallic naval mine Pokémon. It has six blue spikes protruding from it, which act as sensors. It has a red band around its back, which ends in two circular indents on either side, which contain its metallic eyes. It has a chain attached to the bottom side, which is then linked to a spherical weight.
Gender DifferencesEdit
<N/A>
Special AbilitiesEdit
<N/A>
Game Data
Edit
Pokedex EntryEdit
Game LocationEdit
'
HP:
Attack:
Defense:
Special Attack:
Special Defense:
Speed: 
By Level Up
S: tackle S: harden S: selfdestruct Lv.6: spikes Lv:9: water gun lv. 13: sonicboom lv. 16: bide lv. 19: endure lv. 22: iron defence lv. 25: water pulse lv. 28: metal sound lv. 31: iron tail lv. 35: spike cannon lv. 39: hydro pump
By TM/HM

- Valodes original name was Mineme, a combination of mine and me (目, Japanese for eye). It was changed due to pronunciation problems.
Valode is based on a naval mine. It was designed by Fiery Hedgehog.
Name OriginEdit
Valodes name is a combination of naval and explode.
Community content is available under
CC-BY-SA
unless otherwise noted.