Glacicoat(Pokémon)
Edit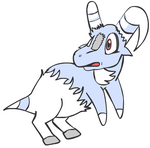 Glacicoat is a pure ice type. It evolves into Ramalanche when <evolution condition>, or into Capricoat when <evolution condition>. It has the ability <ability>. In the Dawn Pokédex it is number #055 and it is classified as the <species> Pokémon.
PhysiologyEdit
Glacicoats goat-like body is split into two parts. The top part is a pale blue colour. On its head are two white horns, with blue rings going around them. It has a white furry beard on its chin and a patch of grey fur in between its eyes. It eyes are relatively large with distinctive vibrant red irides. The lower portion of Glacicoats body is mostly white fur, with two grey hooves at the end of its legs. It has a blue band around it tail, much like its horns.
Gender DifferencesEdit
None
Special AbilitiesEdit
N/A
Game Data
Edit
Pokedex EntryEdit
Game LocationEdit
'
HP:
Attack:
Defense:
Special Attack:
Special Defense:
Speed: 
By Level Up
S: tackle S: tail whip Lv. 6: focus energy Lv. 10: Ice ball Lv. 13: mist Lv. 18: headbutt Lv. 22: hail Lv. 25: icicle spear Lv. 30: body slam Lv. 34: swords dance Lv. 38: skull bash Lv. 42: blizzard
By TM/HM


Glacicoat is based on a goat. Considering it stands up on its two back legs, it may also have been based on a faun. It was designed by Tailzy.
Name OriginEdit
Glacicoats name is a combination of glacier and goat, or possibly coat.
Community content is available under
CC-BY-SA
unless otherwise noted.