Cretash(Pokémon)
Edit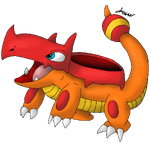 Cretash is a fire type, and is the fire starter of Pokémon Dawn. It evolves into Deraco at <level>, and then into Styraking at <level>. It is <height> in height, and it weighs <weight>. Like all fire starters, it has the ability Blaze. In the Pokédex, its number is #004, and it is classified as the Fire Dino Pokémon.
PhysiologyEdit
Cretash is a small, dinosaur-looking Pokémon. It moves around on four legs, though it is commonly depicted in a sitting position. Its body is orange in colour, and its "armour" covering its head, back, elbows and kneecaps are crimson. Its scaly underbelly and pads on its feet are yellow. It has a crater on its back which is said to spew clouds of smoke. It has a ball on its tail which it can shake like a rattle for enjoyment.
Gender DifferencesEdit
None
Special AbilitiesEdit
N/A
Game Data
Edit
Pokedex EntryEdit
It has a hole in its back which bursts with flames when it is angered. It has often been spotted batting the ball on its tail like a toy.
Game LocationEdit
Starter
HP: 60
Attack: 50
Defense: 68
Special Attack: 30
Special Defense: 52
Speed: 54
By Level Up
-) Scratch -) Tail Whip 7) Ember 13) Smokescreen 18) Horn Attack 22) Block 27) Slash 33) Flamethrower 37) Heat Wave 43) Tail Glow 47) Sunny Day
Note: This moveset is from the demo, and may change in the full version.
By TM/HM


Cretash is based on a small styracosaurus, crossed with an inactive volcanic crater. It was designed by Fiery Hedgehog.
Name OriginEdit
Cretash's name is a combination of cretaceous, the geologic period in which styracosaurus lived, and ash.
Community content is available under
CC-BY-SA
unless otherwise noted.