Champster(Pokémon)
Edit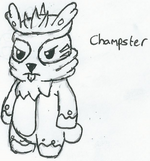 Champster is a normal-type. It evolves from Guinichi at <level>. It is <height> in height, it weighs <weight>, and Champster has the ability <ability>. In the Dawn Pokédex, its number is #011, and it is classified as the <Classification> Pokémon.
PhysiologyEdit
Distinctive markings make it look like it is wearing a luchador mask.
Gender DifferencesEdit
<N/A>
Special AbilitiesEdit
<N/A>
Game Data
Edit
Pokedex EntryEdit
They roam the world, searching for worthy opponents. They defend themselves by using their inflated cheeks as buffer zones. [Subject to change].
Game LocationEdit
'
HP:
Attack:
Defense:
Special Attack:
Special Defense:
Speed: 
By Level Up
By TM/HM
<N/A>
Name OriginEdit
<N/A>
Community content is available under
CC-BY-SA
unless otherwise noted.